Dear friends and alumni of the College of Arts, Sciences, and Business at Missouri S&T,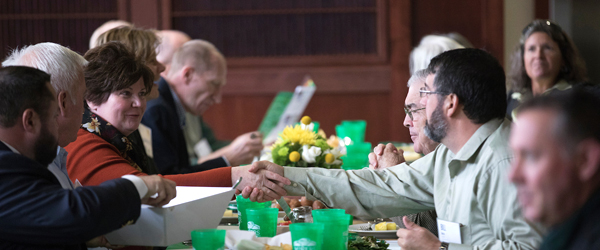 It was wonderful to see so many of you at Homecoming, where we had the chance to reminisce about the rich history of campus and imagine the future of Missouri S&T as it continues to foster innovation and create opportunities for the benefit of all. I especially enjoyed giving tours that highlighted numerous campus improvements, including renovated laboratories, theatres, classrooms, and meeting spaces, as well as the new Missouri S&T Field Research Station, for which researchers in biological sciences just received a master planning grant from the National Science Foundation.
Fall meeting of Dean's Leadership Council
Part of the Homecoming activities included the fall meeting of the College of Arts, Sciences, and Business Dean's Leadership Council, which welcomed its newest member, Dr. Paul Stricker (LSci'82). Paul is one of approximately 200 physicians nationwide board-certified in pediatrics and sports medicine, was an attending physician to the U.S. Swimming Team at the 2000 Olympic Games in Sydney, Australia, and was a 2016 inductee to the S&T Athletic Hall of Fame. The council also announced the establishment of the College of Arts, Sciences, and Business Endowment for Study Abroad, which will forever support students engaged in international learning opportunities. We are profoundly grateful to the donors who made this endowed scholarship possible, and we look forward to its continued growth so that more students can realize the immense benefits of an international learning experience.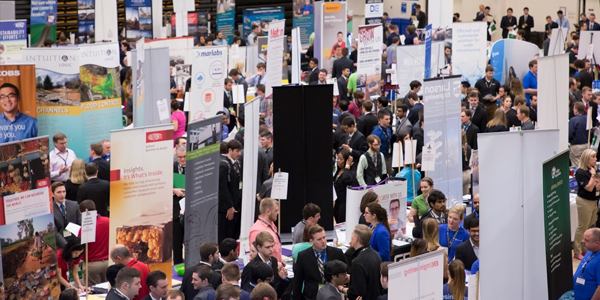 In September, S&T's semi-annual Career Fair attracted over 300 employers from 38 states to campus, including 48 employers who had not previously participated. Nearly 200 of these companies were specifically seeking students from programs in the College of Arts, Sciences, and Business. Several companies, including Boeing, Nucor, and Microsoft, hosted events exclusively for our majors, thus widening the pipeline between our students and the exciting careers that await them after graduation.
The College also recently hosted several prominent visitors, including University of Missouri System President Mun Choi, who met with our Student Leadership Councils, distinguished faculty scholars, and academic program leaders. President Choi plans to return soon to tour the college's teaching and research facilities, and to meet more of our talented students, staff, and faculty. We also welcomed Dr. Eric S. Peterson, who delivered the second annual Dr. James Stoffer Lecture. Dr. Peterson's postdoctoral training in polymers at S&T was under Dr. Stoffer's supervision. Dr. Peterson leads the Process Science and Technology Business Area at Idaho National Laboratory, and is founder and leader of the Recycling Node of the REMADE Institute, a National Network of Manufacturing Institute led by Rochester Institute of Technology.
The rapid progress of the college includes strong growth in student enrollment and faculty appointments, both up by 20% since the college's creation in 2014, as well as exciting new learning opportunities for students, new research centers, expanding corporate partnerships, and deeper, more meaningful connections with alumni. I am so honored and thankful to be a part of this wonderful community, and I look forward to sharing news of more accomplishments in the future.

Wishing you a happy and peaceful holiday season,


Copyright 2017, Curators of the University of Missouri
1201 N. State St., Rolla, MO 65409