Dear friends of the College of Arts, Sciences, and Business,
The 2016-17 academic year is well underway, and the college continues to see many positive developments, especially regarding the growth and diversification of student enrollment, full-time faculty, academic degree programs, corporate partnerships, and alumni relations. I enjoyed the opportunity to share many of these developments with alumni and friends of Missouri S&T during Homecoming in mid-October. It was great to see so many new and familiar faces, hear the wonderful stories of days gone by, and share our excitement about the bright future of S&T.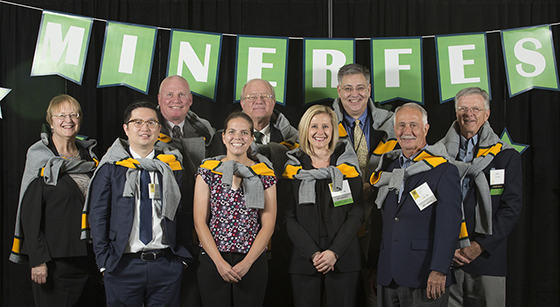 A highlight of Homecoming for me was the recognition of two alumni of the college: Pam Leitterman (Applied Mathematics '75) and Dr. Xiaoliang (Sean) Cheng (Chemistry '10). Pam and Sean were among the nine S&T alumni who were named "Miner Legends" for their professional achievements by the Miner Alumni Association. Pam, a retired executive at Hewlett-Packard and president of the S&T Academy of Computer Science, received the Robert V. Wolf Alumni Service Award. Sean, president and CEO of Wuhan Quality Life Technology Company, received a Distinguished Young Alumni Award.
Pam and Sean also serve as founding members of our Dean's Leadership Council, which held its inaugural meeting over Homecoming. Joining Pam and Sean on the council are Diane Butrus (Computer Science '85), Steve Frey (Physics '86), Carl Schmitz (Information Science and Technology '10), Cori Nelson (Management Systems and Computer Science '02), Mike Haynes (Chemistry '78), Dr. Larry Gragg (Curators' Distinguished Teaching Professor of History), and council chair Ted Kelly (Economics '77). The council's goals include advocating for the college and helping to strengthen our relationships with individuals, corporations, and foundations to aid us in meeting strategic goals. The Dean's Leadership Council works closely with our newly formed Undergraduate and Graduate Student Leadership Councils to prioritize outreach strategies and make the greatest possible impact on student success.
During Homecoming weekend we launched the Stoffer Lecture Series, an annual series of distinguished alumni speakers that has been made possible through a generous endowment from Dr. James Stoffer, Curators' Distinguished Professor Emeritus of Chemistry. Dr. Stoffer served as a faculty member in the department of chemistry for nearly four decades, and is recognized as being among S&T's most accomplished innovators, mentors, and teachers. We were proud to welcome Dr. Janet Kavandi (Chemistry '82) as the inaugural speaker in this distinguished series. Dr. Kavandi was an astronaut on three NASA shuttle missions, logging over 13.1 million miles in space over 33 days. Currently, she serves as director of NASA's John H. Glenn Research Center in Cleveland, Ohio.
Influential alumni honored
We also had the great privilege of hosting Dick and Marilyn Vitek on campus, as Dick (Chemistry '58) was honored as an S&T "Alumni of Influence" by the Miner Alumni Association. Dick has enjoyed a distinguished career as the founder and retired chair and CEO of FOTODYNE Inc., a pioneering company in the manufacturing of laboratory instruments for DNA research. He also is the primary benefactor in the creation of the Richard K. Vitek/Foundation for Chemical Research Endowed Chair in Biochemistry, currently held by Dr. Nuran Ercal in the department of chemistry.
Connections made at Career Fair
Earlier in the semester, S&T hosted its semi-annual Career Fair, attended by over 300 employers and several thousand S&T students. In addition to serving as a platform from which many S&T students launch distinguished careers, the Career Fair also allows the college to engage corporations in discussions about strategies for improving academic programs and experiential learning opportunities, including workshops, internships, and co-ops. We appreciate S&T's Office of Career Opportunities and Employer Relations for hosting the Career Fair, and the many corporations who have reached out to explore new partnerships with the college.
I hope this letter has made clear the absolutely crucial role that our alumni, donors, and corporate partners play in creating meaningful opportunities for our students and faculty. I am deeply honored and thankful to have the great fortune of working with such committed groups in this endeavor, and I look forward to sharing news of more accomplishments in the future.
Wishing you a happy and peaceful holiday season,
Connect with Missouri S&T 's
College of Arts, Sciences, and Business on social media
Copyright 2016, Curators of the University of Missouri
1870 Miner Drive, Rolla, MO 65409