As you likely know, Missouri S&T's 112th St. Pat's celebration was cancelled this year out of an abundance of caution for the well-being of our students and campus community after we learned the coronavirus had entered the U.S. And, for the same reason, on March 16 all in-person classes were transitioned online for the remainder of the spring 2020 semester. Students have been encouraged to return home to their permanent residences, but those who cannot will continue to have access to student housing and dining. S&T is closely monitoring the pandemic in line with guidelines from the U.S. Centers for Disease Control and Prevention and the University of Missouri System, with updates at coronavirus.mst.edu.

Some of our students are likely to experience increased financial insecurities as a result of these disruptions. If you would like to consider donating to the College of Arts, Sciences, and Business, your designated contributions can quickly and directly assist these students during this tumultuous time.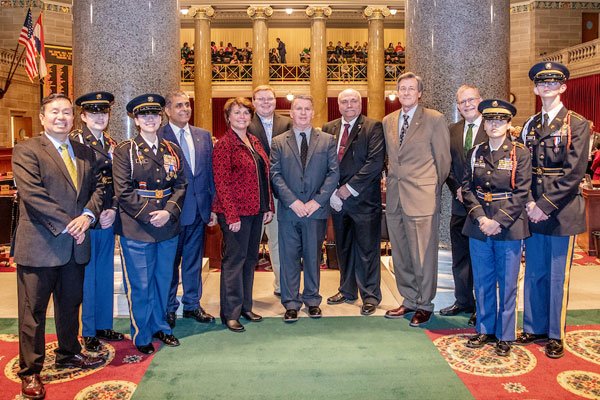 S&T Day at the Capitol kicks off 150th anniversary
On Feb. 25, S&T officials, students, alumni and supporters convened at the Missouri State Capitol in Jefferson City to commemorate the 150th anniversary of the legislative signing that created what was then called the Missouri School of Mines. Dr. Larry Gragg, Curators' Distinguished Teaching Professor emeritus of history, emceed the event, and University of Missouri System President Mun Choi, Missouri S&T Chancellor Mohammad Dehghani, and distinguished alumni State Auditor Nicole Galloway, State Sen. Justin Brown and State Rep. Don Mayhew offered remarks about the tremendous value and innovations Missouri S&T continues to bring to the state. View the event here.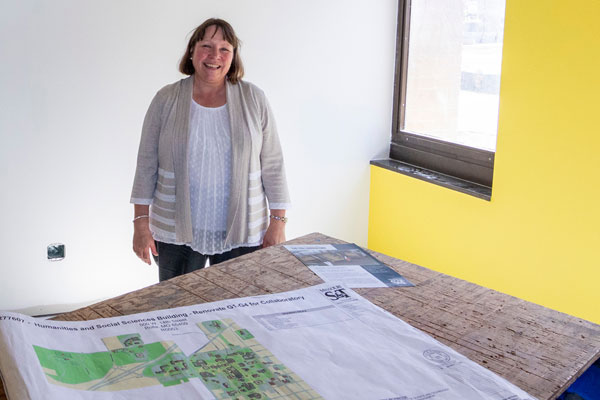 Alumna and faculty member endows new Collaboratory
Dr. Petra DeWitt, Hist'96, assistant professor of history and political science, has
established a $100,000 endowment to support S&T's new 1,150-square-foot digital humanities lab, a research and communication hub now under construction in the Humanities and Social Sciences Building on campus. DeWitt's endowment will fund a student assistantship based in the Collaboratory.
"The Collaboratory will encourage humanities students to exchange ideas, solve problems and create innovative projects," says DeWitt. "It will enhance S&T's commitment to experiential learning with a dedicated working space for humanities subjects where students can combine theory with hands-on activities. My contribution is a foothold for a greater vision that can expand over time."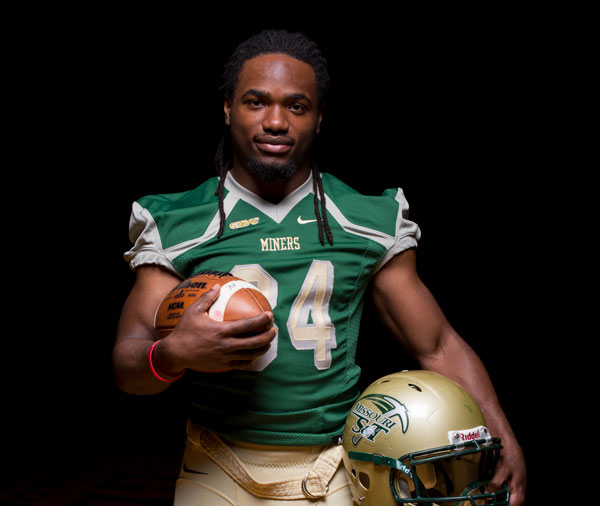 CASB student is GLVC Scholar-Athlete of the Year
Miner running back Deshawn Jones, a senior in biological sciences, has been named the Great Lakes Valley Conference's Scholar-Athlete of the Year in football, one of six student-athletes in the conference selected in their respective sports. Jones closed out his playing career as the all-time leading rusher in S&T's history and also earned a spot on the Academic All-America second team for the third time — one of only five Miners across all S&T teams ever to do so.

While not on the field, Jones served as president of the National Society of Leadership and Success and vice president of the Association for Black Scholars, and the biological sciences honor society Phi Sigma. Jones is marketing himself to pro teams and has already taken the MCAT in preparation for a future medical career as well.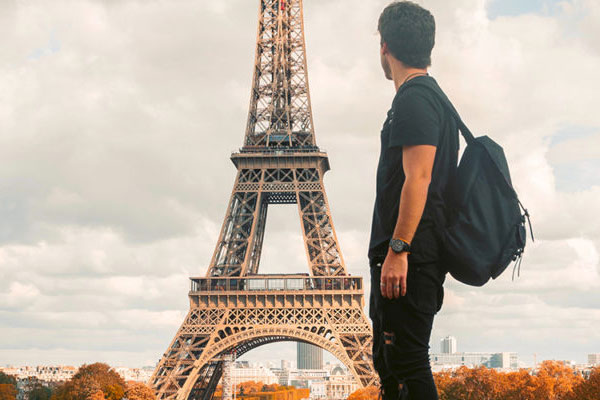 Global Engineering Program to launch fall 2020
Future engineers who aspire to work globally can now prepare through S&T's new Global Engineering Program (GEP), which will begin in fall 2020. The GEP allows students to simultaneously earn two degrees in five years as they increase their intercultural competence and proficiency in another language. In their fourth year, they will study abroad and complete an international engineering internship. GEP graduates will hold a B.S. degree in an engineering discipline and a B.A. degree in multidisciplinary studies with an emphasis in language and culture.
"S&T's top-notch engineering education complemented with international experience will give our graduates a rich toolbox to use throughout their careers as they make critical contributions to today's global challenges," says GEP co-director Dr. Audra Merfeld-Langston, chair of arts, languages, and philosophy and an associate professor of French.
Although the coronavirus has presented some unusual challenges for our campus, our nation, and the world, I am proud of the response that S&T has had to this rapidly developing situation. Our leaders have been working faithfully to gather reliable information, to plan for various scenarios, and to communicate regularly with the campus community. Missouri S&T and the College of Arts, Sciences, and Business will emerge stronger than ever from these challenges, and I remain grateful to be a part of such a wonderful team.
Sincerely,

Connect with Missouri S&T's
College of Arts, Sciences, and Business
Copyright 2020, Curators of the University of Missouri
1201 N. State St., Rolla, MO 65409