I hope you enjoyed the Independence Day holiday and had a chance to spend some quality time with family and friends. As the effects of the pandemic begin to abate, it's wonderful to see the S&T campus repopulating with faculty, summer students, and summer campers. I am grateful to all of you for the choices you made to help keep each other safe over the past eighteen months. As we all begin to resume our personal and professional travel, please remember to stay up-to-date regarding CDC guidance and, if you're a campus community member, to review the resources available at coronavirus.mst.edu.
Even amid the pandemic, members of the college continued to achieve exciting successes this spring – everything from performing arts students pivoting successfully to virtual performances to a newly discovered ant species named after one of our staff. And, after sweeping the Woman of the Year and Women's Advocate awards in 2020, a CASB faculty member was also honored in 2021, as Terry Wilson was named the S&T Women's Advocate of the Year.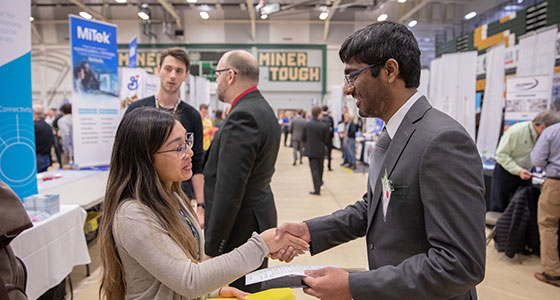 S&T's MBA program was recently ranked among the nation's best, according to U.S. News & World Report. For the first time since the university began offering business degrees 20 years ago, Missouri S&T has made the U.S. News annual list of "Best Business Schools" for its full-time master of business administration (MBA) program. S&T's MBA program is ranked 101st in the nation by U.S. News and 54th among public universities.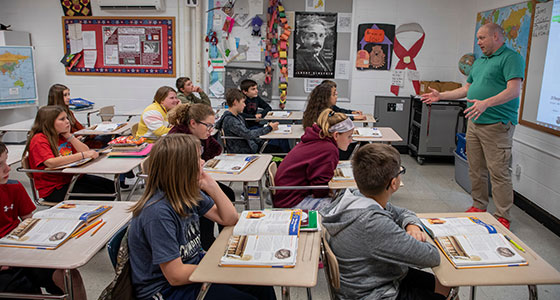 Programs and students that make us proud
In February 2021, the University of Missouri Board of Curators approved S&T's proposal for a bachelor of science degree in education. This new degree program will allow S&T to expand its teacher education and certification department to prepare more teachers for rewarding careers in STEM education, especially in school systems here in Missouri's underserved south-central region.
Also during this past spring semester, CASB students did a great job representing the college at the University of Missouri System's annual Undergraduate Research Day at the Capitol. Five of the seven S&T undergraduates chosen to present their research projects to state legislators were CASB students, from the departments of chemistry, history, and biological sciences.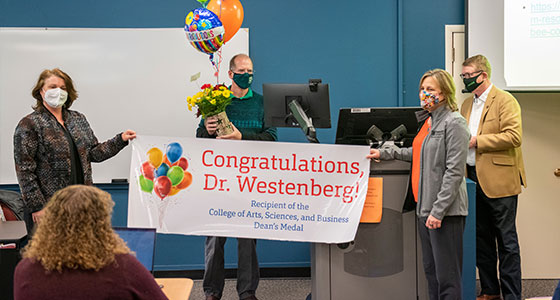 First CASB Dean's Medal winner
Our sincerest congratulations go to biology professor Dr. David Westenberg, the first recipient of the Dean's Medal for Outstanding Commitment to Undergraduate Student Success in CASB. Members of the Dean's Leadership Council Faculty Excellence Committee surprised Westenberg with the award while he was teaching a class in March. Those of you who remember Dr. Westenberg will surely agree that he is a shining example of faculty dedication to students' success, and deeply deserving of this recognition.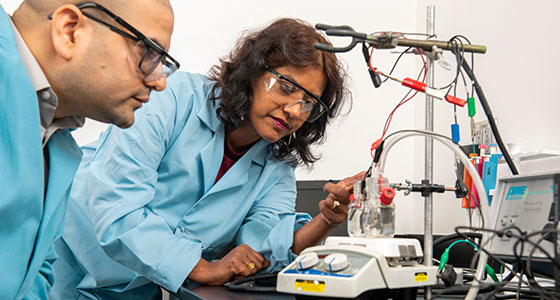 New research developments
Faculty from fields including philosophy, history, and mathematics and statistics recently released new books, while laboratory researchers reinvented how they could teach chemistry remotely during hybrid courses that were offered this past year.
Research faculty in CASB continue to find success in their grantwriting efforts. To share just a couple of recent examples, Dr. Manashi Nath, associate professor of chemistry, was awarded a $500,000 grant from the National Science Foundation (NSF) to design a catalyst to convert the environmental pollutant carbon dioxide into new fuels and chemicals, and Dr. John Singler, professor of mathematics and statistics, won a $165,000 NSF grant for collaborative research into the transport and mixing in fluid flows.
Our wonderful and generous alumni
We are so grateful to Missouri S&T alumnus Gary Havener, a 1962 mathematics graduate, who recently committed $6 million to Missouri S&T to support the university's new Arrival District and to establish the Gary W. Havener Endowed Department Chair in Mathematics and Statistics.
"My contribution for an endowed mathematics chair will help ensure that every S&T student will have access to the best mathematical foundation for success in technical fields," Havener said in an S&T interview.
We also want to thank Cordell Smith, a 1988 history alumnus, whose generous gift of $250,000 established the university's very first endowment to fund the research efforts of history and political science faculty. The Lawrence O. Christensen Endowed Faculty Fellowship honors late Missouri historian and S&T professor Dr. Lawrence Christensen – a beloved professor who taught history at S&T from 1969 to 2000. Dr. Kathleen Sheppard, associate professor of history and political science, was recently named the first Christensen Fellow. Sheppard is a historian of science who focuses on women in the sciences in the 19th and early 20th centuries.
I look forward to welcoming you back to campus this fall, whether you are a student returning for fall classes or an alumnus joining us at Homecoming to celebrate S&T's 150th anniversary and the Miner Alumni Association's 100th birthday. In the meantime, please consider submitting an entry to the 150th Anniversary Poetry and Writing Contest by September 1. Winning entries will be included in the university's time capsule this fall.
I hope you enjoy the rest of your summer, and please don't hesitate to contact me at any time.

Kate Drowne, Ph.D.
Interim Vice Provost and Dean


Copyright 2021, Curators of the University of Missouri
1201 N. State St., Rolla, MO 65409