College of Arts, Sciences, and Education
Dear CASE students, faculty, and staff,
I hope everyone was able to take some time off to relax and rest during the Thanksgiving break. There are only a few weeks left in the semester, and I know you all are busy during this time of the year. If I am able to help with anything or ease a process, please do not hesitate to reach out to me or Megan Fowler, my executive assistant.
Speaking of Megan, I want to thank her and Dr. Larry Gragg in history and political science for their hard work to create a dedicated section on the CASE website for our college's history. There is now a wonderful history of CASE's founding and the changes that have happened throughout the years. Be sure to check out the timeline too.
One other thing of note I want to highlight in this message is the recent top ranking that our psychological science department has earned. Forbes Advisor has named the psychological science online master's degree program as one of the top 10 "Best Online Psychology Master's Degrees" in the country. Congratulations!
If you would like to share any news for future editions, email Megan and we will include it in our monthly newsletters.
Carey Bottom of Brownsburg, Indiana received the Alumni Achievement Award during the Homecoming Weekend. Bottom, a retired pharmaceutical executive and entrepreneur, earned bachelor's, master's and doctoral degrees in chemistry from S&T in 1972, 1975 and 1979, respectively. He received the S&T Award of Professional Distinction in chemistry in 1996.
Janet Conner of Kansas City, Missouri, received the Distinguished Young Alumni Award. Conner, director of business operations at Oracle Cerner, earned a bachelor's degree in mathematics from S&T in 2004.
Mary Gillis (assistant teaching professor, teacher education and certification) received the Class of '42 Excellence in Teaching Award.
Two senior History majors, Garrett Blum and Jeremy Robey, were part of a Missouri S&T team that participated in the 2022 Academic Competition Federation fall tournament held at the University of Missouri-Columbia and placed first with a record of 11-1. S&T's teams competed in 12 rounds against seven universities, including the University of Illinois, University of Nebraska, Washington University, MU, St. Louis Community College-Meramec, Kansas State University and Saint Louis University. Individually, Garrett Blum, who is a Evan's Dean Scholar, placed fourth in the competition.
Santhoshkumar Sundaramoorthy (Ph.D. student, chemistry) placed first in the 3 minute Thesis Competition held at Missouri S&T in November with a presentation titled "Making electric vehicles efficient and affordable." He will be representing Missouri S&T at the Midwestern Association of Graduate Schools (MAGS) conference for the regional competition in April 2023.
The following twelve graduate and undergraduate students from the chemistry department presented their research at the Fall 2022 American Chemical Society Midwest Regional Meeting in Iowa City, Iowa: Olajide P. Adetunji, S. Adom, A B M Shaheen ud Doulah, Vaibhav Edlabadkar, H. Bhatia, Brian Jameson, H. Bhoday, Ethan Hay, Justin Nulsen, Z. Mayes, R. Herndon, and Kurt Lagemann.
In December 2022, the first middle school math and science teacher candidates will graduate. These students will be licensed to teach grades 5-9 in Missouri schools. This certification level was new to Missouri S&T in 2020. Students specialize in a content area but receive a bachelor's degree in education with the appropriate emphasis area. Two of the graduates, Grant Freeman and Bailey Poncia, are serving as teachers of record this semester.
The Kummer Center for STEM Education hosted STEM Day on Nov. 8. Many CASE departments contributed activities for this successful event. Over 900 K-12 students attended.
Julia Alexander (assistant teaching professor, teacher education and certification) received a $25,000 grant from the Missouri Department of Elementary and Secondary Education (MO DESE) for a project titled "Missouri S&T Child Development Center Literacy Activities." The period of performance is from Nov. 4, 2022 to Sept. 29, 2023.
Mehrzad Boroujerdi's (dean, CASE) article about the suppression of the Sunnis in Iran was published by The Washington Institute for Near East Policy. He also delivered a talk on the current protest movement in Iran at the University of Missouri – Columbia on Nov. 7. Boroujerdi was also quoted in separate articles by the Associated Press, El Confidential (Spain), Tjekdet (Denmark), and PassBlue.
Shane Epting (assistant professor; arts, languages, and philosophy) presented research at the Philosophy of the City Conference in Turin, Italy and at a symposium at the University of Milan's Culinary Mind Center.
Mathew Goldberg (associate teaching professor, English and technical communication) had his short story collection, Teshuvah, selected as a semi-finalist for the Iron Horse Literary Review/Texas Tech University Press First Book Prize. An excerpt from his novel has also been nominated for this year's Pushcart Prize by The New Territory magazine.
Garry (Smitty) Grubbs (associate professor, chemistry) received a $145,526 grant from the Department of Energy for a project titled "Studying f-Electron Contributions in Thorium- and Uranium-Containing Molecules." The period of performance is from Sept. 1, 2022 to Aug. 31, 2023. Smitty also gave a TEDx Missouri S&T talk on Oct. 28, titled: "Eliciting a Reaction: Some Fun and Exciting Chemistry Demos."
Beth Kania-Gosche (professor, teacher education and certification) received two separate grants from Missouri Department of Elementary and Secondary Education (MO DESE). The first grant ($5,000) was for a project titled "Little Miners Child Care Center Enhancement." The second grant ($23,000) was for a project titled "Missouri S&T Education Dual Credit." Beth was also invited to participate in the Missouri Legislator's Retreat, which will be held on December 1-2 in Jefferson City, Missouri. The retreat will provide legislators with opportunities to engage in constructive conversations about education with leading experts and practitioners from around the country and our state.
John McManus's (professor, history and political science) course on the Vietnam War has just been released by "Great Courses."
Vadym Mochalin (associate professor, chemistry) has an accepted invited perspective review in Advanced Materials (IF 32.086) titled: "Perspectives of 2D MXene Tribology," as corresponding author.
Shun Saito (assistant professor, physics) received a $135,000 grant from the National Science Foundation for a project titled "Collaborative Research: A Partnership in Central Missouri in the Era of Multi-messenger Astrophysics."
Philip Whitefield (Curators' Distinguished Professor Emeritus of Chemistry) received a $2.05 million grant from the U.S. Federal Aviation Administration (FAA) to study how different types of sustainable aviation fuels could reduce greenhouse gas emissions from airplanes. The funding was received through the FAA's Aviation Sustainability Center (ASCENT), which is part of the FAA's Air Transportation Center of Excellence for Alterative Jet Fuels and Environment.
For the past two years, Annmarie Tyson, a graduate student in technical communication from St. Louis, has interned for the same company – Tyson Foods. And next spring, after graduating in five years with an undergraduate and graduate degree from Missouri S&T, she will finally join them full time. Read her full story on the S&T News site.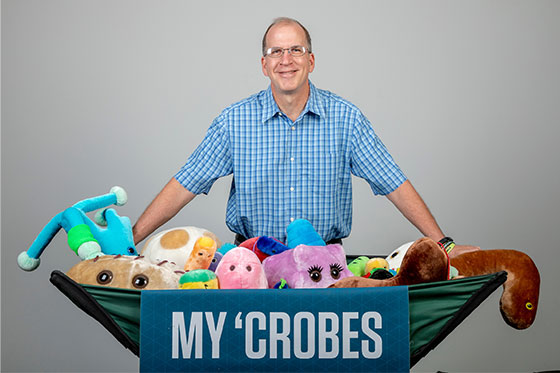 Dr. Dave Westenberg is a professor of microbiology in biological sciences. Dave fell in love with the microbial world as an undergraduate student at Michigan State. It was there he first learned about the incredible diversity of microorganisms and their importance for life on Earth. His fascination with microbes and genetics led him to UCLA where he earned his Ph.D. in Microbiology and Molecular Genetics. Before coming to Missouri S&T, he spent two years in Germany as an Alexander von Humboldt Fellow studying methane producing microbes and then four years at Dartmouth College as a USDA Fellow studying bacteria that benefit plants. In 2005, he returned to Germany for a sabbatical as an Alexander von Humboldt Fellow to expand his research in plant-microbe interactions.
As a microbiologist fascinated with the diversity of the microbial world, he enjoys collaborating with colleagues from a variety of disciplines to find new uses for microbes. It is important to Dave that society be aware that the vast majority of microorganisms are harmless and even beneficial but, at the same time, one can't ignore the fact that some microorganisms cause disease. Dave enjoys the challenge of juggling these two very different concepts and his research focuses on both identifying and using beneficial bacteria as well as trying to find ways to prevent the few harmful bacteria from causing disease. This view also influences his teaching in courses such as microbiology, pathogenic microbiology and virology including accompanying laboratory courses. He also teaches the first-year biology seminar course and has taught courses in genetics, epidemics, bacterial genetics and synthetic biology.
His passion is sharing the fascinating world of microorganisms with others. His approach is to build connections and open dialogue with others. An experienced and award-winning educator and science communicator, Dave is accustomed to working with K-12 students in the classroom, interacting with children of all ages at public outreach festivals and events, presenting to civic organizations, or speaking at scientific conferences. For seven years he chaired the American Society for Microbiology Committee for K-12 Outreach and led an ASM task force on public engagement with science. He has engaged in professional development programs for K-12 teachers and college educators by facilitating workshops locally and nationally. He is a facilitator for the BioBuilder program which strives to bring the innovation and design thinking of synthetic biology into the K-12 and undergraduate classroom. As a member of the HHMI Biointeractive Ambassador community, he has helped develop and test strategies to use the educational resources developed by the HHMI Biointeractive team.
Dave has been a strong advocate for students and currently chairs the Missouri S&T JED Campus Faculty and Staff Engagement Committee and helped develop the Departmental Mental Well-Being Champions program. He serves as advisor or co-advisor for a variety of student organizations and spent over ten years as the chair of the campus pre-medicine advisory committee. He currently is in his tenth year as the Missouri S&T NCAA Faculty Athletics Representative and loves sharing the success of Miner student athletes who excel not only in their sports but also in the classroom with student athletes having a higher average GPA, greater retention rate and higher graduation rate than the general student body.
Amy Belfi talks about her research on "What Music Does to Us" in a podcast for the Association for Psychological Science.
College of Arts, Sciences, and Education

Missouri University of Science and Technology